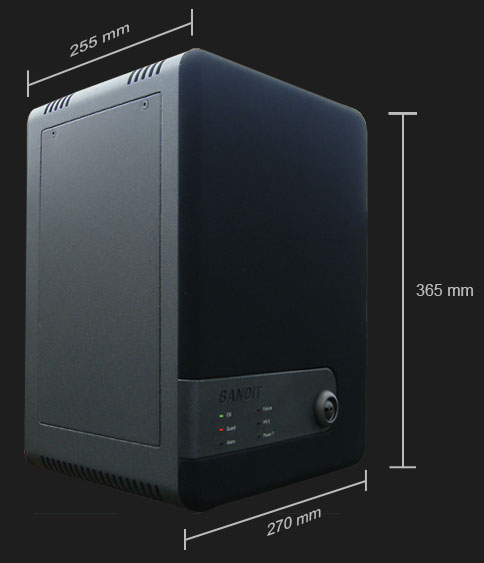 Fog Bandit Technical Information
The FOG BANDIT is the perfect solution to prevent loss of goods and assets resulting from burglaries, because "what can't be seen can't be stolen!" Many major high street retailers and business owners in general can already testify to the benefits provided as a result of installing a FOG BANDIT.
Dimensions – W 270 mm x H 365 mm x D 255 mm
Bandit weight, when prepared ready for installation – 23.7 Kg
Total installed weight – 35 Kg
Average power consumption – 40 W / hour
Mains failure battery back up – FOG BANDIT remains fully operational for a minimum of 2 hours
Droplet size: 0.0004mm
Certified to European CE and EMC Standards

Choice of fog ejection nozzles available – normal nozzle (propels fog 6 metres in first 2 seconds in a 60

o

spread cone shape) or narrow nozzle (propels fog 10 metres in first 2 seconds in a narrow cone shape). Refer to Technical Specification Sheet for more information.